Please note that this bird has not been observed since Tuesday, 31October. Hopefully, it has moved on.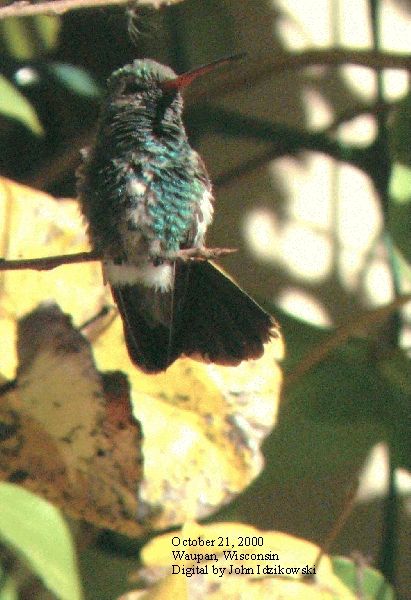 These pictures were taken by John Idzikowski at the home of Dave Freriks in Waupun Wisconsin. Through use of the Wisconsin Birding Network many birders visited Dave's house and observed this bird. Saturday night Robert Domagalski wrote "The Broad-billed Hummingbird (seen by many and photographed by at least three birders at Dave Freriks' feeder today in Waupun, Dodge County) should become a new species on the Wisconsin valid list."
Here is Dave's first post on the bird:
Just before dusk this evening we had a hummingbird at our feeders - it was definately not a Ruby-Throated. It was overall much greener, seemed a bit larger than a Ruby-Throated, definately had a dull reddish lower bill, with a dark chin - hard to tell, but looked blueish - not red at all. Did have some white on breast - but not much. I am not experienced with Western hummers and I'm just guessing, but maybe Broad- Billed? Any advice or comments would be appreciated. It was around for about 10 minutes this evening - flew off before I could get the camera set up. We live in Waupun - If anyone would be interested in taking a chance that it will be around tomorrow they would be welcome to take a look. Back channel me if interested and I can give directions. Thanks Dave.
All pictures are Copyright (c) 2000 John Idzikowski
Picture 1 Picture 2 Picture 3 Picture 4 Picture 5 Picture 6 (same as on this page, but bigger, should load fast)